Documentation
Alphabetic list of elements (v1.0)
Arpeggio and notehead_ref
<!ELEMENT arpeggio (notehead_ref+)>
<!ATTLIST arpeggio
shape (wavy | line | no_arpeggio) #REQUIRED
direction (up | down) "down">
<!ELEMENT notehead_ref EMPTY>
<!ATTLIST notehead_ref
%spine_ref;>
Element arpeggio is used to realize an arpeggio on a number of given noteheads.
Attributes
shape, a mandatory attribute that defines the graphical appearance of the sign. The value "no_arpeggio" is often graphically rendered by a square bracket.
direction, an attribute that fixes the direction for the performance of the arpeggio.
Element notehead_ref is used to define which notes should be affected by the symbol. Thanks to this method, it is possible to join notes coming from different chords.
Attributes
event_ref, a mandatory attribute that identifies the spine event corresponding to the current notehead.
Examples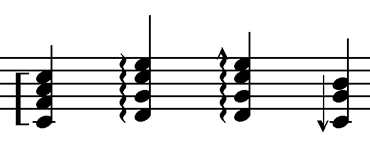 <horizontal_symbols>
<arpeggio shape="no_arpeggio">
<notehead_ref event_ref="event_01" />
<notehead_ref event_ref="event_02" />
<notehead_ref event_ref="event_03" />
<notehead_ref event_ref="event_04" />
</arpeggio>
<arpeggio shape="wavy">
<notehead_ref event_ref="event_05" />
<notehead_ref event_ref="event_06" />
<notehead_ref event_ref="event_07" />
<notehead_ref event_ref="event_08" />
</arpeggio>
<arpeggio shape="wavy" direction="up">
<notehead_ref event_ref="event_09" />
<notehead_ref event_ref="event_10" />
<notehead_ref event_ref="event_11" />
<notehead_ref event_ref="event_12" />
</arpeggio>
<arpeggio shape="line" direction="down">
<notehead_ref event_ref="event_13" />
<notehead_ref event_ref="event_14" />
<notehead_ref event_ref="event_15" />
</arpeggio>
</horizontal_symbols>
Laboratorio di Informatica Musicale
Dipartimento di Informatica
Università degli Studi di Milano
Via G. Celoria, 18 - 20133 Milano, ITALY
Goffredo Haus, PAR1599 chair
Phone: +39 02 50316 222
E-mail: goffredo.haus@unimi.it
Luca A. Ludovico, PAR1599 vice-chair
Phone: +39 02 50316 382
E-mail: luca.ludovico@unimi.it
Laboratory
Phone: +39 02 50316 382
E-mail: lim@di.unimi.it